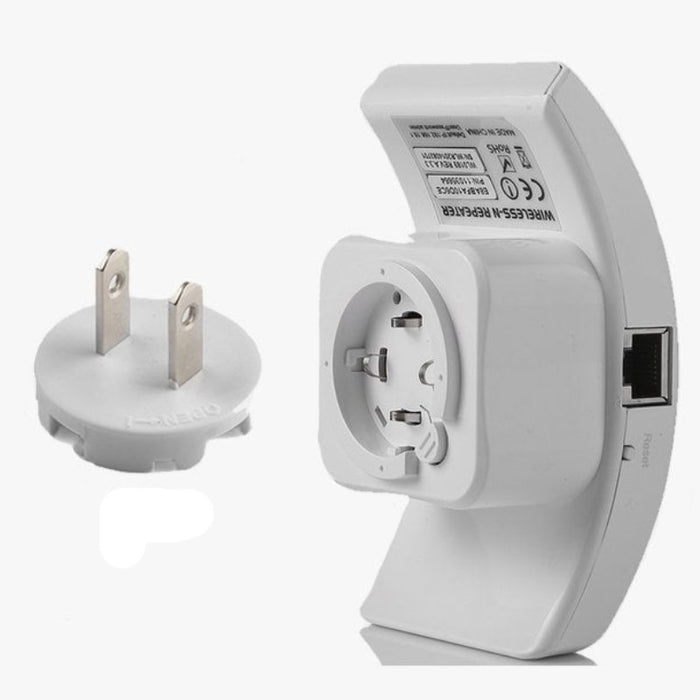 WiFi Booster & Range Extender - Wireless Standard 802.11n / g / b - Transmission Speed of 300mbps - Extends Wi-Fi to Smart Home & Alexa Devices
Original price
$19.99
-
Original price
$19.99
Say goodbye to Wi-Fi dead zones. Wi-Fi coverage is just an outlet away with our Wi-Fi booster and extender. Double your existing network range and speed with wireless transmission speeds of up to 300Mbps. This Wi-Fi repeater is small and discreet, easily blending into your home decor.
Our wireless extender is the best solution to extend Wi-Fi signal to devices like iPhones, iPad, Android devices, Alexa devices, smart TVs, PCs, PlayStation, smart plugs and so much more.
Watch movies, stream music, and listen to your favorite podcasts without worrying about dead zones or spotty signals!
Features:
Our Wi-Fi repeater features a sleek and compact design that blends in seamlessly with your walls and décor

It is available in two different colors such as black and white

The Wi-Fi booster is compatible with any router or access point, making it easy to expand and strengthen your network

Supports wireless speeds of up to 300Mbps and keeps all of your favorite devices running as fast as possible

Adds Wi-Fi range coverage to the full area and connects most devices such as laptops, smartphones, speakers, IP cameras, tablets, IoT devices, Alexa devices, and more

Connect an Ethernet cable from your smart TV, gaming console, or streaming box to the repeater for a boost in speed and connectivity

It also provides signals to smartphones, Alexa, and other smart home devices

Plug into a wall outlet for a sleek solution that extends your router's range and stays out of sight

The compact plug-in design also helps in saving the space
Specification:
IEEE 802.11 n / g / b standard

Transmission Speeds: 300Mbps

Size: 110 x 60 x 88 mm

Operating temperatures: 0-40 degrees Celsius

Relative humidity: Operational and storage 10-90% (non-condensing)

Available Color: Black / White