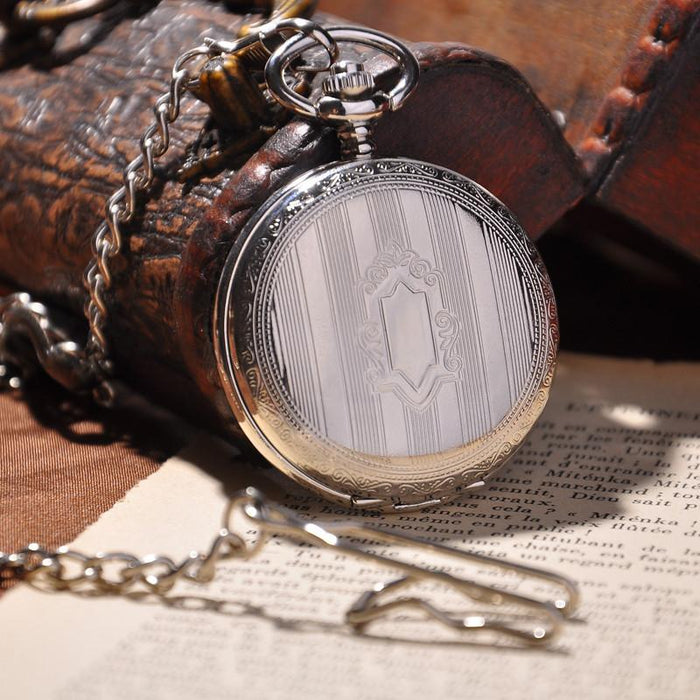 Silver Shield Full Hunter Pocket Watch
Original price
$20.00
-
Original price
$20.00
This Silver Shield Full Hunter Pocket Watch is carefully crafted to perfection. The cover is intricately designed with a subtle striped pattern and room for engraving personal initials, making it the perfect gift for any occasion. The crystal face and back cover brilliantly showcases the skeleton and mechanics of the clock's inner workings, giving it an antique feel that any pocket watch lover would enjoy.
A Full Hunter Pocket Watch is a classic style that includes a pocket watch cover that entirely hides the face of the watch. The Silver Shield Full Hunter Pocket Watch also includes a chain and Roman Numeral Dial for an elegant finish that would add class to any man's wardrobe.


How To Use a Mechanical Watch:
This is a mechanical watch, powered by a winding spring manually (no batteries needed).

1. When you first wear it, wind the watch by turning the button on the side of the watch, until it is full.
2. By taking the button out slightly, you can adjust the time, then push back the button.
3. If you leave it still for a long time, swing it lightly for a few minutes and wind-up by several laps. At this time, it will work normally.
4. If still have any questions, please feel free to contact us for support.
Tips:
. Fully winded, the power reserve of watch can last you up to 36 hours