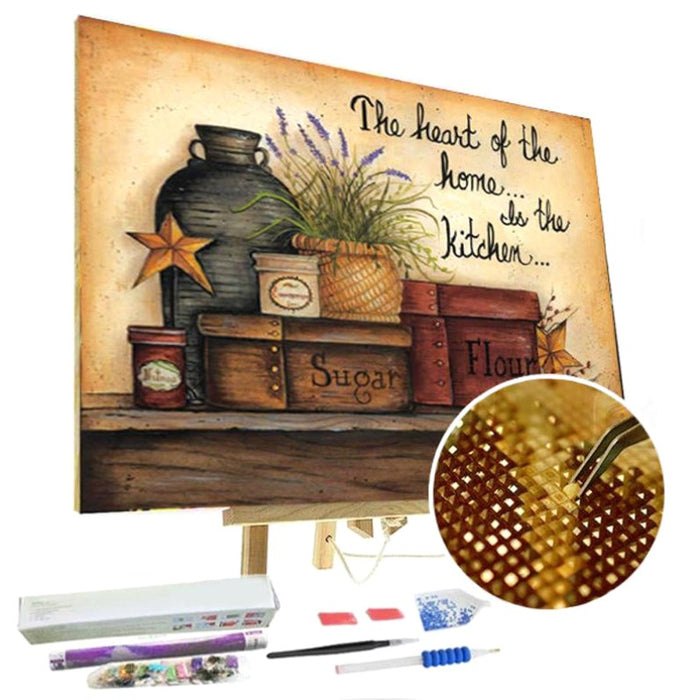 Paint by Diamonds Kit - Kitchen 5D
Original price
$16.99
-
Original price
$16.99
This classy kitchen display will make you feel right at home!!
Description

Every 5D Diamond Painting comes with everything you need from start to finish.

 one adhesive canvas with film covering
number coded beads by color
application tool
adhesive pad
plastic tray to hold beads
Anybody can be an artist with the paint by diamond kit and create stunning masterpieces. With 5D Diamond Paintings, making your own masterpiece is easier than ever. This special form of art has introduced various themes for every taste and occasion. When you're finished, you'll want to start all over again! That's how fun it is.
Try out a canvas today! 
Simply follow the steps below at your own leisure to finish your painting:

Think color by numbers but instead of colored markers, you're using colored beads.
Apply adhesive from the small pink pad onto the applicator tool. This is how it picks up each bead.
Peel away part of the film (do not remove completely) covering the adhesive canvas and stick your beads (labeled by number) to the corresponding number on the canvas.
It's recommended to do one color at a time.
When you've finished a session, re-cover with film and press lightly with your hand to further secure the beads to the adhesive.
Keep covered with film when not in use repeat the above whenever you'd like to work on your painting.
When completely finished, remove the film covering the canvas and you're ready to display with the built-in frame.
Canvas Size: 20*25CM

Note: there is extra space around the canvas for framing if required.
Shipping:
Processing time of 1-2 business days and delivery time of 2-5 business days
Please note, this is not a painting that come already painted. This is a paint by diamond kit that allows you to paint your own painting with diamonds.