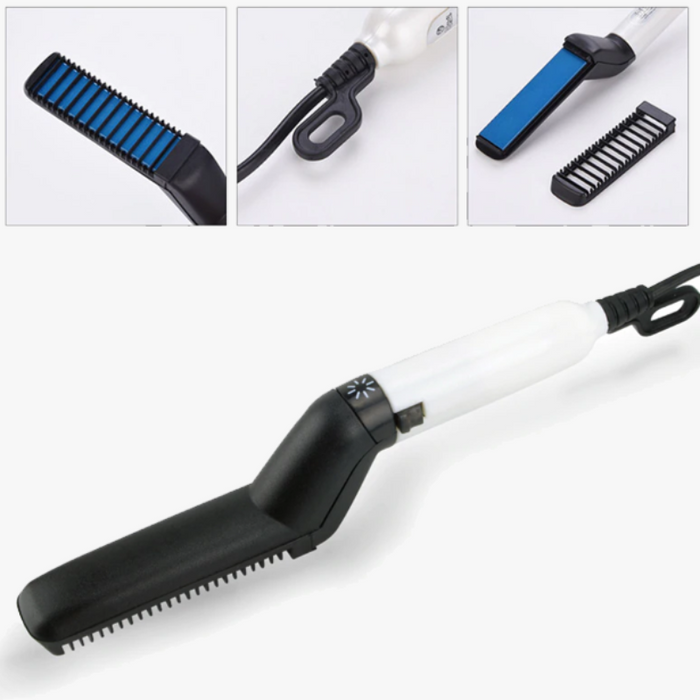 Multinational Electric Hair Beard Comb
Original price
$29.99
-
Original price
$29.99
Wanted to achieve a smooth and straight beard?
This Multinational Electric Hair Beard Comb is designed to straighten and smooth facial hair easily. It uses a negative ion technology to control the thickest beard into a soft and smooth look. The brush combines heating barrels and comb teeth for hair smoothing, straightening, curling and creating beautiful volumes.
The Beard Straightening Comb is the first-ever men's heated straightening brush, designed exclusively to smooth out facial hair for an effortlessly soft finish.
Combining the functionality of a hairbrush with the power of heat, the Multinational Electric Hair Beard Comb restores your beard to the masculine, groomed perfection in seconds! Join thousands of others discovering Beard Straightening Comb and find out how it's taken their beard game to the next level!
Features:
No Damage To Beards: negative ion technology to prevent heat damage. Comb daily for a healthy, polished look.
Heat barrier design: with revolutionary bristles that glide effortlessly across the face and scalp without harming the skin.
Long-lasting, Effortless Style: Quality performance ensures that the styled result is long-lasting, easy-to-achieve and takes only minutes to touch up, even with roughest, coarsest hair.
Multi-use - Beard, and Hair: when your beard is looking pristine, this is the perfect tool for touching up head hair too!
Quick heating: Up to temperature in 15 seconds, ideal for a quick touch up.
Lightweight & ergonomic: Comfortable and controllable in hand for detailed styling.