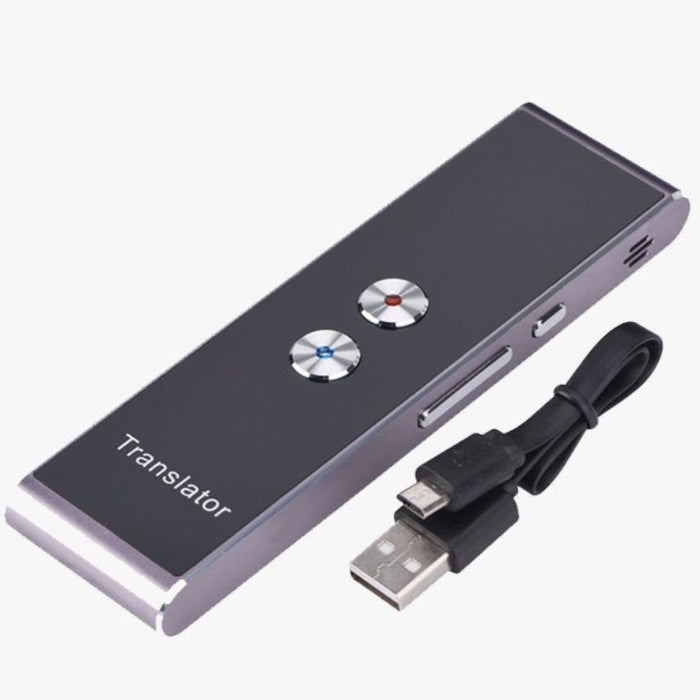 Multi-Language Portable Smart Voice Translator
Original price
$74.99
-
Original price
$74.99
This is a highly innovative and real-time speech translator which can translate English, Chinese, Japanese and more than 30 other languages. It can be used for learning languages, traveling, business, corporate meetings etc. The translator uses intelligent speech recognition technology to translate recording into text and simultaneously transmit into a voice output. The device has high audio quality without noise, easy to carry anywhere and is compatible with iOS and Android phones.
Features:
Two-Way Real Time Intercom:
 It can be used to communicate face to face, and solve communication obstacles. It gives you the most suitable translation results in real time and responds in seconds.
Text Translation:
 Support text to text translation.
Bluetooth Wireless Connection:
 Connect to your phone via Bluetooth, allows wireless transmission distance up to 10 meters, and the distance of voice recognition is 2 meters.
Durable and Rechargeable:
 Built-in 3.7V 750mA rechargeable battery, low power consumption, plug and easily charge.
Specifications:
Color: Gray
Wireless: 2.4G Optical
Optical Resolution: 1200dpi
Connect to Phone: Bluetooth
Wireless Transmission Distance: 10m
Voice Recognition Distance: 2m
Battery: 3.7V 750mA Rechargeable Battery
Size: Approx. 123 x 36 x 12mm/ 4.8 x 1.4 x 0.5in
Package Weight: 127g
How to use :
Connect your mobile phone to WiFi, or mobile network, scan the QR code on the product and download the translation APP of iTranslate;
Set the App according to the Instruction.
Turn on the translator; then open the Bluetooth and connect the device "Translator" with your phone; open APP and it will scan and find the "iTranslate" device.
There is a menu bar in the APP, and the language of more than 30 countries can be selected.
After choosing the translated language, press the button A on the translation stick to start the recording, release the button after the speech is finished, and check the translation results on APP for about 1 second, the translator recognizes the speech as a text, then translates it into the foreign language and plays.
Attention: The speech translate function needs cellular data or WIFI, please make sure that your phone's network is connected. If the network is poor, the translator maybe delayed or does not function.
Package includes:
1 x Translator
1 x USB Charging Cable
1 x User Manual
​The supported languages are as follows:
Simplified Chinese, Cantonese, Sichuan dialect, Traditional Chinese, English (China), English (US), English (UK), English (Australia), English (India), Korean, Japanese, French, German, French (Canada), Spanish, Spanish (Mexico), Thai, Italian, Dutch, Greek, Portuguese, Portuguese (Brazil), Russian, Arabic (Egypt), Arabic (Saudi Arabia), Arabic (International), Hungarian, Romanian, Swedish, Czech, Finnish, Danish, Polish