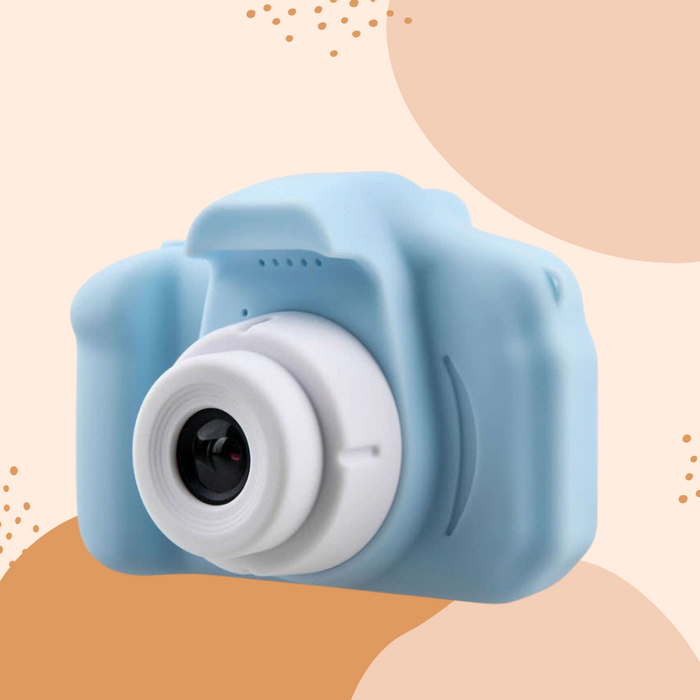 Mini Digital Camera/Camcorder
Original price
$29.99
-
Original price
$29.99
The kid's digital camera has 8.0 megapixels and 1080p HD video. Compared to other cameras for kids in the market, photo definition has been highly improved. The toy video camera can take up to 1920x1080P video. Equipped with 4x digital zoom, it will catch the wonderful joyous moments for boys or girls. Shockproof with safe silicone material. The kid's camera is a digital product specially designed for children with a unique appearance. 
Details: 
Environment-friendly soft silicon cover with protective shockproof shell
2 Inch LCD screen
High-definition picture and video 
Durable & safe for kids
Note: The kid's camera comes with a 16GB TF card(it can support up to 32GB TF card)& USB cable
Built-in battery, rechargeable kids camera. Built-in rechargeable lithium battery
The toy video camera can be used for 2 hours by taking photos and 1.5 hours by recording
Charging time 1.5-2 hours 
Important tips: Charging should be done by adults or supervised by adults.
Fun camera features: This camera for children has more fun functions that will improve kids' creativity- with autofocus, big head sticker, and a customized frame. The photo and video mode have added 8 scene selections and 4 shooting zooms options. Just have 5 functions- photography, setting, video recording, games, playback. It will attract children to use it. You can get kids something different, something that would get them away from the TV and video games and allow them to have a compact size and delicate gift. 
Compact:
Only weighs 65g
Compact small size is 83x61x48mm
Convenient to carry everywhere, the packing includes a durable lanyard for portability
Designed for children to hang the mini camera on their neck to simply capture scenes of animals, nature, or family
Specifications:
Product: Kids digital camera
Product size: 83x61x48mm
Weight : 0.65KG
Screen size: 2.0 inches
Screen type: IPS full-view screen
Photo resolution: 8 megapixel
Charging voltage: 5V - 1A
Charging time: 2h
Battery capacity: 1000 mAh (works for 4-6 hours)
Battery type: Polymer lithium battery
Video resolution: 1920x1080p
Camera photo resolution: 3624x2448
Please note:
This kid camera maximum support for 32GB memory card requires a micro SD card (includes a 16GB memory card). After the recording is completed, remove the memory card, insert it into a card reader to view the video on your computer. Please format the card before use
The camera is not waterproof
Due to the long-time transport, the camera's battery will be on low power. Please charge before using. It does not include a charger, you can use your mobile phone charger
Connect to your computer using the USB cable (included) or card reader to download all your works
Package includes:
1 x 16GB Memory Card
1 x Kids Camera
1 x Lanyard
1 x USB Cable
1 x User Manual