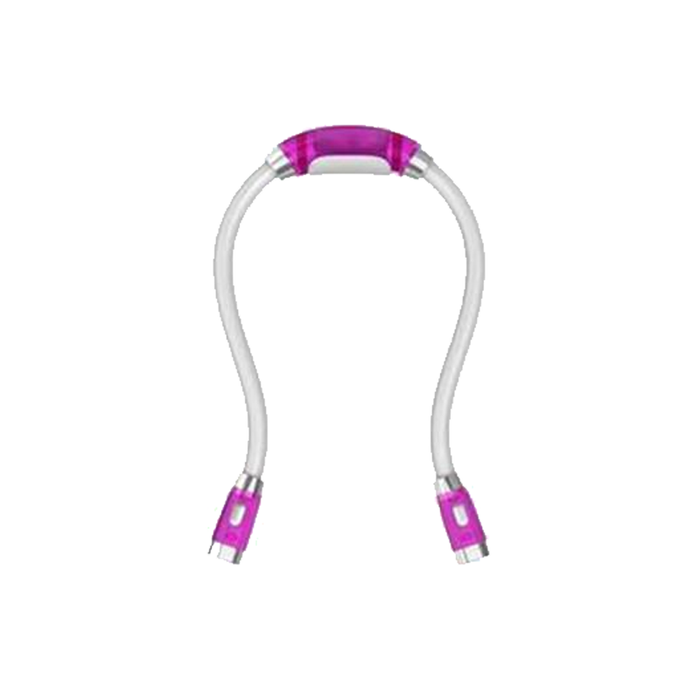 Knitting & Crocheting Lamp
Original price
$3.99
-
Original price
$3.99
 Specifications:
The KNITTING & CROCHETING  LAMP is the go-anywhere, flexible, rugged, solution to task lighting - that keeps your hands free! Two, 12-inch, steel alloy wire, flexible arms make it easy to bend the arms and point the ultra-bright LED light wherever you want it.
Wear it around your neck and keep your hands free for your project, repair or task. Compared to a headlamp, the LAMP Pro offers the advantage of not shining a bright light into everyone else's face! Direct the light exactly where you want it. Designed for indoor and outdoor use.
All of the rugged plastic housings are water-resistant. A flat rubber base makes the LAMP Pro easy to stand on any flat surface so it can be used as a lantern.
Magnets embedded into the flat base are useful for attaching the light to any magnetic metal surface. The magnetic base is perfect for attaching the light to the side or hood of a car for repair... or to the side of a machine in the shop to really light up the work area for that machine.
An invaluable camping tool, the LAMP Pro makes it easy to light up your view without slowing your hands down to grapple with a traditional light.
You'll want one in your car, boat, shop, yarn craft... with your camping gear... and just for fun! Excellent for kids, too! Runtime averages about 40 hours on 2 AAA batteries (not included).
Highlights:
Foam rubber-covered wire arms.
Super flex steel alloy wire.
Bend into any shape like candelabra, hook, cobra & coil, etc.
The hug light arms are soft, and hugs around your neck gently
The soft LED light will not bother anyone nor harm your eyes
The brightness of the LED is adjustable to match your needs
Each Hug Light tip has 2 super-bright LEDs, one focused beam & one wide beam to fit your needs
2 soft foam, flexible arms, soft rubber grip neck pad, keeps hands totally free.
LED operates independently.
Extra-wide area illumination.
4 white LEDs.
Power Supply: 2 AAA Batteries (not included)
Provide up to 40 hours of long-term energy.
Color: Black, green, blue, pink,
Length: 60cm
Specification:
Powerful  Lithium Battery. Its 2 AAA Batteries (not included) Provide up to 40 hours of long-term energy

4 LEDs Total & 4 Level Brightness. 2 LEDs on Each Arm, 1 Spotlight, and 1 Wide Angle LED on each side. 1st Click is Wide Angle Light, 2nd Click is Spotlight, 3rd Click is &hearts Spot&Wide light, 4th Click off. Functions are the same for each arm.

Flexible Arms. Steel alloy arms are flexible and strong. Arms are covered with soft Silicone, nontoxic, safe to use, and high-grade.

Lightweight, Compact, Portable & Durable. With only a 3-ounce weight, the bendable book light doesn't require much space and can fit easily into your carry-on suitcase, making it an ideal choice from all aspects.

Sold Exclusively, complete satisfaction guaranteed!
How to use: (Brightness adjust)
Press the button one time, and one of the lights is on,
press the second time, another light will be on,
Press the button double instantly, and the two lights (which means the small lights on one side) will be on together