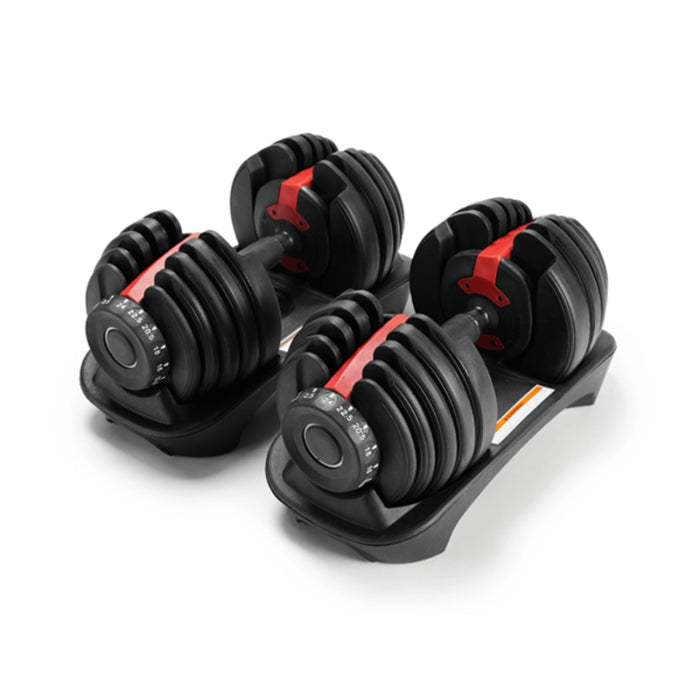 Heavy Duty Adjustable Dumbbell Set 52 LBS / 90 LBS
Save

50

%
Save

50

%
Original price
$599.98
-
Original price
$999.98
Introducing the Heavy Duty Adjustable Dumbbell Set, a versatile and space-efficient solution for your strength workout needs at home.

With its innovative design and unique dial system

Say goodbye to cluttered workout spaces and hello to efficient and effective strength training.
FEATURES:

Space-Saving Design: This adjustable dumbbell set condenses 15 sets of weights into one, saving you space and allowing for a clutter-free workout area.


Easy Weight Adjustment: With a simple turn of the dial, you can adjust the weight from 5 to 52.5 pounds in 2.5-pound increments, providing gradual resistance increments.


Versatile and Efficient: Quickly switch between exercises without the need for multiple dumbbells, making your workout routines seamless and time-efficient.


Durable and Heavy Duty: Crafted with high-quality materials, this dumbbell set is built to last and withstand heavy use, ensuring long-lasting performance.


Includes Dumbbell Stand: Our set includes a convenient dumbbell stand, providing a designated storage space for your adjustable dumbbell.
SPECIFICATIONS:

Weight Settings: 15 Weight Settings in pounds: 5, 7.5, 10, 12.5, 15, 17.5, 20, 22.5, 25, 30, 35, 40, 45, 50, and 52.5 pounds
Dumbbell Dimensions: 15.75 inches long by 8 inches wide by 9 inches tall
Weight (Each): 52.5 pounds / 23.8 kg
Fast Shipping: Enjoy fast shipping within 2-4 days from the USA, so you can start your workouts promptly.

Upgrade your strength training and order your set today!