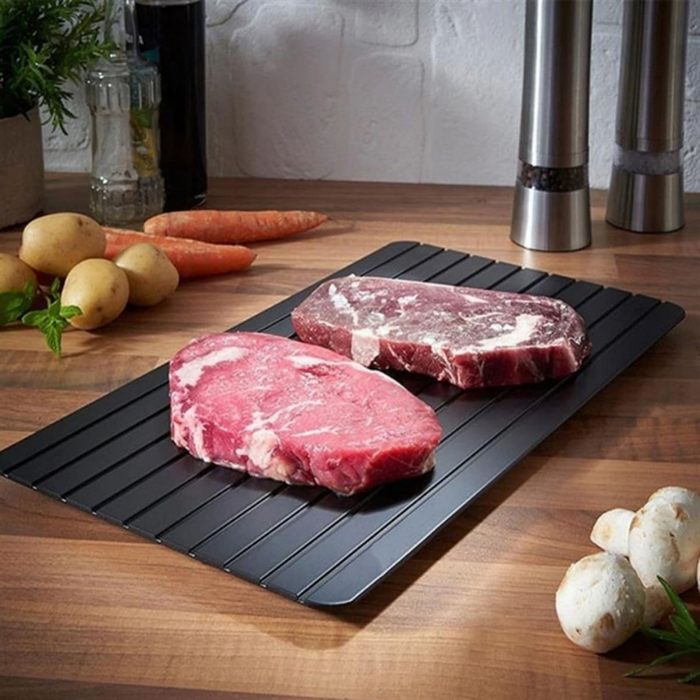 Fast Defrost Tray
Original price
$15.49
-
Original price
$15.49
Mess-free countertops: meat defrosting tray features heavy-duty silicone rubber corners, keeping your counter squeaky clean and allowing you to easily defrost meat, poultry, fish, or veggies!.

Large and thick rapid defrost tray: Thaw steak, pork chops, chicken breasts, lamb chops & more on this 3mm aluminum non-stick defrosting tray fast depending on thickness and room temperature. Vegetables and smaller food items such as fish, prawns, and sausages take even less time to defrost.

Eco-Friendly and easy to clean: Our non-stick, non-toxic, corrosion-resistant, and durable defrosting tray needs only soap and hot water. The large, non-stick surface of our quick thawing board will not only defrost meat faster but also keep it clean!

Keep flavor and nutrition: More Hygienic than soaking in water, gentler than microwaving, keep food fresh and its original flavor intact. Defrosting tray is fast and sanitary and thaws in the most 'natural' and safe way keeping the essential nutrients and vitamins. Recommended by professional chefs.