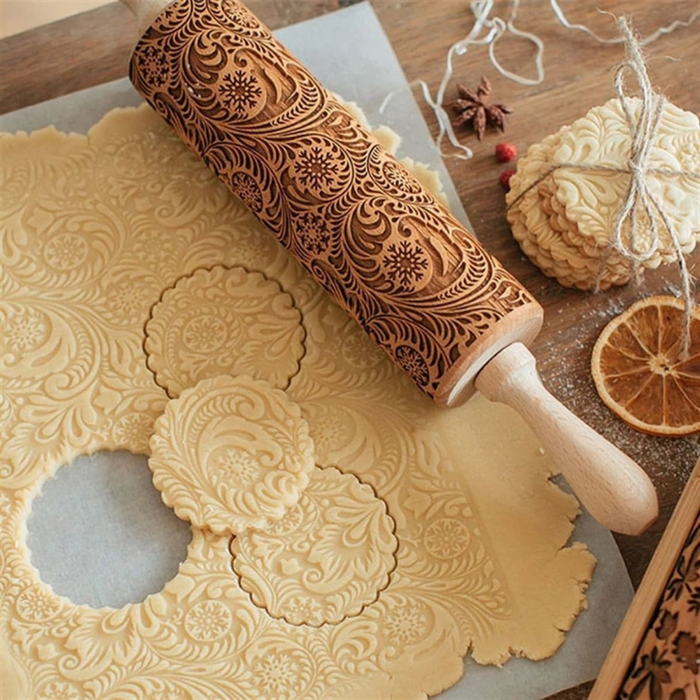 Embossing Cookie Dough Rolling Pin
Original price
$15.49
-
Original price
$15.49
Made from high-quality solid hardwood! Rolling pins are skillfully engraved, sanded, and finished to take on your next baking project and make you the star. With an easy roll, you can transform your cookie and pie dough and fondant into baking masterpieces. Embossing rolling pins are great for cookies, pies, fondant, and clay.
Rolling pins can be a really nice housewarming and a beautiful gift for your friends, children, and your kitchen. So, you can choose any pattern from our store or your own. 
The wooden rolling pin for making cookies. The dough can be made from salt, sugar, or fondant!
Specification: 
Rolling Pin Cylinder Size 43X5 Cm (The Large Size)
Multi Design Rolling Pin Cylinder Size 39X5 Cm (The Large Size)
Materials: Natural Wood, Ecological Friendly
Tips:
Clean body and cracks with a damp brush after use; use water sparingly as needed, and towel dry. Do not use in the dishwasher,

 

hand-wash only. Keep out of direct sunlight. Once in a while rub with vegetable oil to preserve the integrity of the wood so that you can enjoy your rolling pin for years! 
PRODUCT DETAILS
Embossing rolling pins
Great for cookies, pies, fondant
Ecological Friendly Natural Wood