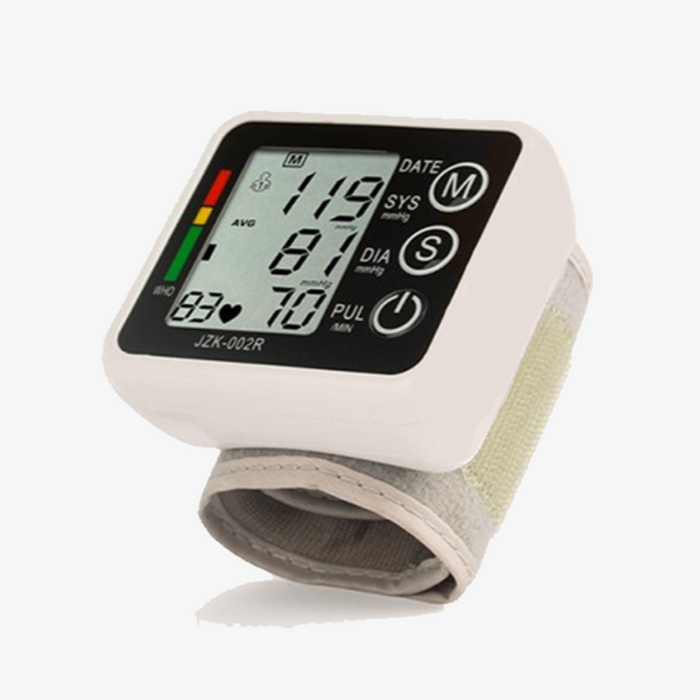 Electronic Blood Pressure Monitor
Original price
$24.99
-
Original price
$24.99
This monitor helps you keep track of your or a loved one's blood pressure and pulse, which can alert you to potential health issues. If it notes an irregular heartbeat, it will alert you so that you can consult with a medical professional.

Put the wrist belt on the wrist without any cloth or jewelry, and keep the display screen at the underside of the wrist. The cuff should be about 1.2 cm away from ulna. Lower end of the cuff should be tightened and adhered to the wrist roll. Correct measuring posture is sitting, and the wrist belt and the heart should be kept at the same height.

SPECIFICATIONS:
Product Dimensions: 77.5mm × 68mm × 30mm (excluding wristband)
Operating temperature: 10 - 40 degrees
Display: LCD digital display
Measuring method: pulse scanning / oscilloscope assay
Measuring range: hypertension / hypotension: 20mmHg -280mmHg
Pulse: (40 to 200) beats / min
Resolution: 1mmHg (0.1kPa)
Accuracy: ± 3mmHg (± 0.4kPa)
Pulse: ± 3 percent of reading within
Voltage: 3V
Power Consumption: 0.01W
Box volume: 9.2cmX9.7cmX12.2cm
Package Includes:
1 x Blood Pressure Monitor
1 x Plastic carrying case
1 x Instruction manual
Power by two AAA Batteries (Not included).