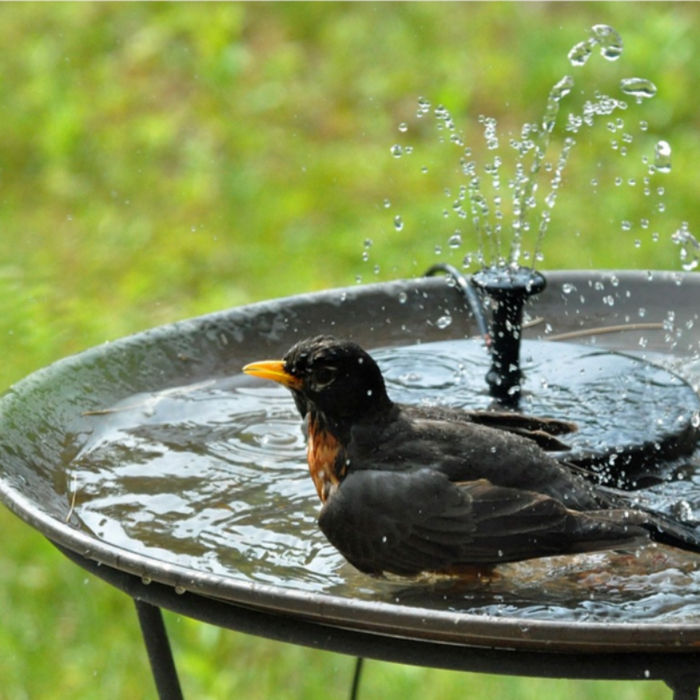 Solar Powered Fountain Pump
Original price
$19.99
-
Original price
$19.99
Solar Powered Fountain Pump - Eco-Friendly & Ergonomic Design  - Battery & Electricity Free - Water Spout Pump Kit for Birdbath, Oxygen Circulation, Fish Pond, Garden & Outdoor Decoration
Make your water pond even more decorative with the help of our solar fountain! The solar birdbath fountain works automatically only in 3 seconds in direct sun, up to certain jet height we do not need any electricity or battery to pump the water. Our solar pump comes with different nozzles to meet your different needs for jet height or jet shape. The height can be adjusted by changing nozzles to avoid spilling out of the basin.
Just put the pump on the water, the fountain will auto-pump once the solar panel gets sunlight. The brighter the sun, the better the effect of the fountain spill.
This new solar pump fountain is perfect for bird bath, fish tank, small pond, pool, garden, patio, lawn, water circulation for oxygen!
Our solar fountain works with an extremely competent solar panel and it is controlled with solar power completely; it does not need battery or electricity to perform functions 

it is completely an eco-friendly solar pump and saves money than any other fountain pump

Our solar fountain pump has 8 different types of spray methods attached to it  by which it helps to change the height of water in different water pattern;

This eco-friendly solar pump is perfect for bird bath, fish tank, small pond, pool, garden, water circulation for oxygen; Your garden would definitely catch the attention of the passers-by.

Our fountain is very easy to use, you just have to do is, make the pump float on the water; once the solar panel gain sunlight, it will run automatically within a couple of seconds

Make sure the fountain sets with enough water under the fountain so that the pump can stay entirely under the water; most perfect decor for your home garden and outdoors
Specification:
Power: Sunlight

Spray Type: 8 Different spray style